The lazy girl saviour has landed! Be honest with yourself now, you're a lazy girl, right?! No shame, no blaming over here, hell I am the LAZIEST girl you'll ever meet!
Checklist for a lazy girl:
does not move if not absolutely necessary/something will kill you – that includes moving vehicles etc.
would rather sit on the sofa than eat and would risk starvation and the brink of death to stay put on the sofa
have promised to go out and meet someone and ditched because you're too comfy under all your blankets
TV controller has stopped working so instead of changing it or fixing it you just napped
Any of these sound familiar? Well, you my friend have joined my special little elitist club of lazy girls! Luckily for us, lots of beauty brands have gotten wind that I am not the only girl in the world too lazy to function and have invented some amazing products to embrace our laziness!
Enter Shadow Switch from Dee & Co the holy grail of beauty products for lazy girls!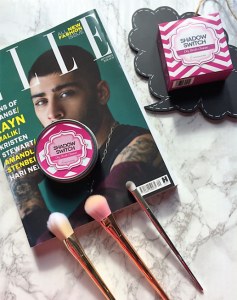 This little contraption has been designed by geniuses! It is a small disk shaped contraption with a screw top that conceals a black mesh that promises to clean your make up brushes in a simple swirl and flick.
Believe me, I was a nay-sayer and didn't even believe this product worked. I'd seen it being thrown around and spoken about by loads of other bloggers on my Twitter feed, hell I even read a few reviews to see if it was actually what it was cracked up to be! I still wasn't convinced even after reading some of my favourite blogs!
So, being a non-believer (sorry but I had to be honest for you to feel the weight of this post) I was a tad blasé about using this little product. Taking it one step further, I dirtied up some of my favourite and most beautiful brushes (you may recognise them from my recent Real Techniques Dupes Post) and decided to test out the Shadow Switch to see if it works.
And… drum roll …
It only bloody works! Not only does it work, it does a spanking job with minimal effort. I'm talking the laziest of the lazy effort!
So, here you go! Living proof that this amazing AMAZING product works!
As you can see from my Snapchats [username: LOVEROSIEE18], on the left is my messiest brush with dried on and over used product. I used really darkly pigmented and heavy make up on the brush as a tester. In the middle shot you can see me literally dipping the brush into the black course material and swishing it around a few times to get the product off. If I'm being totally honest (you know can depend on me for being an honest blogger) then I will tell you that the lazy girl inside of me took over and I did this swishing motion with minimal effort for about twenty seconds. Then, on the right in my Snap you can see that it popped out COMPLETELY clean. It is so perfect and looks just like new!
This AMAZING little product is so so so insane! It is dry and keeps your brushes dry, it is minimal effort and it is so lightweight and small. It is one of those items I feel blessed to have found and been sent to review. It is also one of those products that has found a permanent home in my beauty area. It literally hasn't moved except for this blog post.
In fact, this product has kind of transformed me! Yes, I will forever be a lazy girl at heart but I now use the Shadow Switch to wash my brushes every time I apply my make up! Luckily, that isn't everyday, it's more like three times a week – don't worry a leopard never changes her spots!
Please please please get your hands on this product – you will not regret it and you will find so much other stuff to do with your time. Why did we waste so much time physically washing our rushes before!?
Find this AMAZING product here!
Thank you Dee & Co and Shadow Switch, you've changed this lazy girl forevermore!
LoveRosiee
xxx